However, in the conditions of a total rise in price, it is not so easy to fill it and at the same time remain the same Das Auto. The recipe already worked out on the new Polo helped: the place of the compact crossover was taken by a redesigned Skoda model. Yes, Taos and Karoq are produced at the same Volkswagen group plant in Nizhny Novgorod and have the same body — the only difference is in the "plumage".
The engines are gasoline — only. The basic 1.6 atmospheric engine develops 110 horsepower. It can only be ordered with a 5-speed "mechanics" and front-wheel drive… And only in the initial configuration of Respect.
All this looks like an "advertising" version, which no one will take as completely out of touch with life. However, Volkswagen, as in the old days, offers both separate options and a package for such cars.
The basic equipment includes LED headlights, 6 airbags, tire pressure sensors, heated front seats and steering wheel, an 8-inch digital "dashboard", air conditioning, an electromechanical handbrake with auto-hold function, cruise control… and a central armrest. Don't laugh — in Volkswagen, it has been an option for many years, even on quite expensive models.
ESP, of course, is "in the base", and it is able to stabilize the trailer and simulate the locking of the inter-wheel differential. Even with the initial 6.5-inch screen, the media system is equipped with Apple Car Play, Android Auto, and MirrorLink. There is even an engine start button. However, in the initial configuration, instead of keyless access, there is a regular central lock with remote control.
It would seem that the "living wage" is provided, but there are nuances. Mirrors in sun visors without illumination, wheels-stamped, 16 inches… However, a two-zone climate can be purchased for 20 thousand, and for 35 they offer a "City" package: it has parking sensors and a rear-view camera, two USB connectors in the front and behind (all are Type C), and at the same time a dead zone monitoring system that warns about cross traffic when driving in reverse
We've met somewhere
You get comfortable in the interior as if you see it not for the first time. The climate control unit, buttons, the gearbox lever, the steering wheel are familiar. The driver's seat has a huge range of height adjustments. Finishing materials are budget-friendly, but only those that the inhabitants of the usual salon do not touch. Plastic does not try to imitate veneer, leather, or carbon fiber: it is simply painted in a pleasant metallic gray.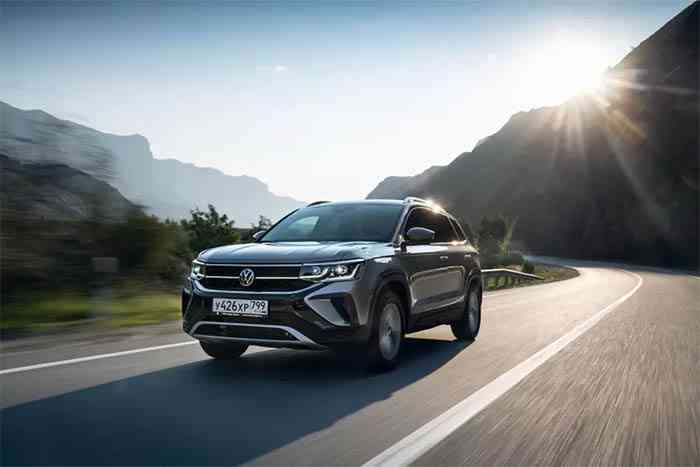 Claims appeared only for strange default settings. The trunk door is always closed, but this is regulated through the menu. And here's something cooler: if you open the door with the engine running, there is a frantic panic squeak, as if an irreparable catastrophe with human victims is about to happen. I have heard this signal before on some cars — if you open the driver's door when the machine is not in the parking lot. Something must be done about this alarming cry.
It cannot be said that inside Volkswagen is perceived richer than its sister Skoda: the Carok has a more solid transmission selector, a steering wheel rim with ergonomic tides. In a word, there is parity in the sense of quality. At Taos, the ventilation deflectors are not located on the sides of the central display, but under it. This location has the right to be life-tested by 34-degree heat. And although the climate control works great, a couple of times I had to add the intensity of the blowing, because the automatic mode could not cope.
The electromechanical "handbrake" freed up enough space for cup holders and niches. All the keys are at hand. Unless I would like a physical button for switching traffic modes, especially since there is a stub for it.
By the way, about these modes. They are switched only through the second menu screen (not very convenient) or with a washer at the DSG selector (convenient!). And they are present only on four-wheel-drive cars, but there are as many as seven of them! Eco, Normal, and Sports-this are understandable. There is also a separate mode for snow (road) and an Individual one, which the user (sorry, driver!) configures himself. Plus the Off-road mode and even off-road individual.
Fewer joys are available to the driver of a front-wheel-drive car: the Aisin automatic has a sports mode (the lever from the drive to itself) and manual switching (the lever from the drive to the right). Off-road, you can disable the stabilization system. Of course, if you are sure that the slips will allow you to drive further.
Ground of Doubt
I will not hide that I expected less from Taos on the move. I thought that I was looking at an elevated analog of Polo — the more pleasant it was to make a mistake. And the first discovery is excellent sound insulation by the standards of the class. Even the tires do not bother, and the engine is not heard at all until you properly spur it.
We spent less time on asphalt than on primers of varying degrees of cross-country ability. But it was enough to understand: this is really a Volkswagen. The course is moderately hard, tight. The roll from the machine can be squeezed out only on serpentines.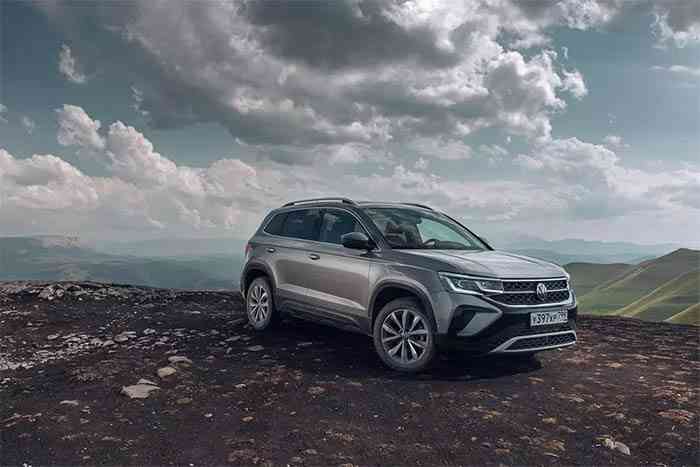 The dynamics feel like sufficient plus a small margin. Regardless of the gearbox, the turbocharged Taos drives out in nine seconds. But this is on-demand because more often it tends to save fuel. Both the automatic and DSG like high gears and are reluctant to go down. The" robot " used to have such a sin: if you cheer it up with a kick down, the acceleration began only after a noticeable pause.
In part, this feature has been preserved, but it is much less evident. With a good pressure on the gas, the DSG quickly switched from sixth gear to third. On the highway, you can safely drive in sports mode — it seemed to me that DSG works in it not as nervously as on Tiguan, and reacts more quickly when overtaking — and every time it handles 250 Newtons intelligently and intelligently.
Yes, it does not do without kinks. In particular, the "robot" almost does not use the first gear and even tries to climb the mountain on the second. And if he thinks hard, then on the fourth. The same tricks are thrown out by the machine.
A pleasant surprise from DSG — a very smooth start. It is difficult to distinguish it from an automatic machine. Even off-road, where it is important to carefully start or crawl by centimeters, the box behaves flawlessly. In particular, it coordinates its work well with the gas pedal damped in off-road mode. Taos is confidently selected on the imitation of inter-wheel locks with diagonal hanging.
On the primers of Kabardino-Balkaria, sometimes you can confidently drive at 50 kilometers per hour, the main thing is to look for large stones. Yes, these are not yet Karelian "dopa", but they are already quite decent trails. They are recognized in a good way by the Volkswagen school. No slackness, the body feels monolithic, assembled. The interior does not rattle, the steering wheel does not convulse.
And I don't want more than 17 inches of wheels any more: they look elegant, and a 55-percent profile plays into the hands of comfort and confidence on a bad road.
Difficult choice
I hope I don't have to answer the question "Taos or Karoq?" The difference between them lies not in the technical plane, but exactly in the one where people make decisions based on likes. For example, I prefer the exterior of a Skoda, but the interior of a Volkswagen. Well, what about it? The Russian representative office of Volkswagen believes that there are customers who are loyal to Skoda or Volkswagen. So it's not a question for them.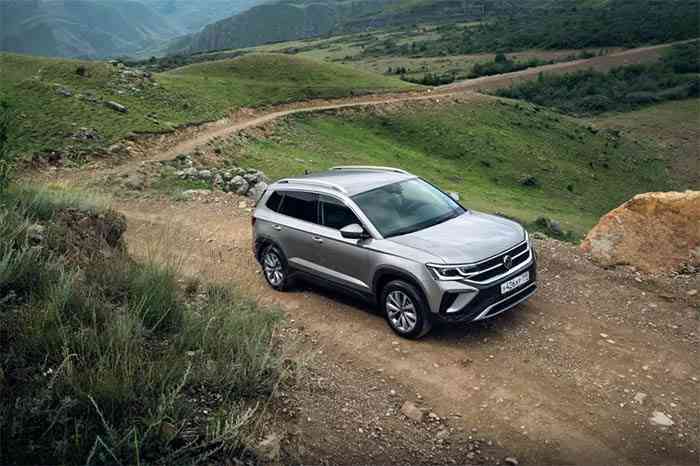 But what if you haven't decided on a camp? Collect the configuration that is right for you and choose the best price. The main differences lie precisely in the configuration. For example, a Karoq with a turbo engine and front-wheel drive will cost less than a Taos: Volkswagen has this combination of units available only in the more expensive Status configuration.
Taos is a little more compact and cheaper than Tiguan, but still not poorer in terms of its overall sensations. And I would probably prefer a 150-horsepower Taos to a front-wheel-drive 122-horsepower Tiguan (and even more so to a significant surcharge for its more "packaged" modification). Even in driving "on the far side", the younger crossover is quite well-off, and its back seat does not look like squeeze torture.
Tiguan is suitable for people who are larger and taller, with more serious suburban logistics tasks. Well, and more well-off, of course.
And one more answer to an unasked question. If you are looking closely at Polo — is it worth getting into a bigger loan and overpaying half a million? I have no right to give advice on how to manage the family budget. I can only assess whether Taos is worth this surcharge. And my answer is probably yes. This is not the case when a "heavier" price tag is hung on a model just because it is some kind of crossover.
Polo is perceived as an outspoken state employee with a set of important advantages. That is, there is a certain compromise: it qualitatively closes the economic needs, but still does not give pleasure from the very fact of ownership.
The Taos is seen as a more mature, more versatile, and more established car. His opportunities are wider, impressions of him are fuller, and the very feeling of compromise does not visit. For example, it is already quite possible to embark on a journey on it. And you are unlikely to suddenly post it on the bulletin board with the comment "I'm waiting for a replenishment in the family, I need a bigger car".
I assume that you will outgrow this class of cars earlier and find interest in something more advanced than your household needs will really stop closing Taos.